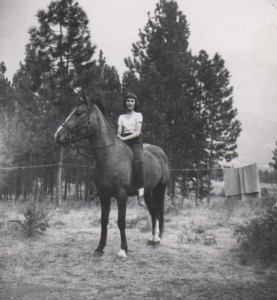 On my horse, Babe — Montana farm
As long as I can remember I made drawings.  By the time I was age 4, I knew I would always do art even though I had no name for it.  Northwest Montana in the mid-50s was not an art center.  My visible art world was a mix of Western and farm calendar pictures.  The Catholic holy cards and Italian-made statuary (made-in-Italy was the imprimater of real Catholic art) were the other part.  However, my milieu did respect art and artist — even if a very young artist in the family was akin to having a talking dog.
Art supplies were left over pencils and crayons from older siblings (I'm one of nine children).  At about age six I got a box of Prang watercolors with my Easter coloring book.  Mom cut open advertising envelopes which came in a variety of colors and textures.  From sawmill and carpentry jobs, Dad the planed wood ends of lumber (an endless supply) and stubs of the large, soft-leaded carpenter's pencils.  From odd paper, match boxes, and other cardboard, I constructed all sorts of things for my younger siblings.
Through elementary school I usually got the certificate for the best art (meaning the accurately drawn).  I took both art classes in high school, doing my first oil painting the second year.  Mr. White helped sharpen my drawing skills and lent me the first art books I'd ever seen.  That year I received the second largest oil painting set from the Sears catalog as my Christmas present.
At Seattle University I earned a Liberal Arts degree with a major in art.  Initially my study area was oil painting.  In my junior and senior year, I shifted to bronze casting, both lost-wax and sand casting.  After graduation, I continued casting — showing and selling in the Seattle area.
Marriage and young children altered my life for several years.  We were living in Alaska and during this time I began a drafting and house design business, subcontracting to building contractors.  I transferred my business to Washington state when we returned there.  I had my drafting business for 25 years.  When I returned to art work, bronze casting costs had skyrocketed, so I chose to paint again.  This time I used acrylics both for the short dry time and the ease of water clean-up.
Between drafting jobs, I renewed my art.  Once I had about 50 finished paintings, I began entering shows and approaching galleries.  I did this with relative success for more than 20 years.
The imagery of my art changed and developed a number of times.  Overall images became more linear and flat, always with high color.  I love working with cut paper.  My art thought was more abstract, linear and geometric.  In 2007 I began some detailed drawings that evolved into several series of pop-surreal paintings.  The images are narrative and highly detailed.
Moving to Los Angeles in 2010 I joined a Life Stories writing group which meets weekly.  Graphic novels caught my attention and I began to explore this art form seriously.  The skill and discipline of my drafting background is a tremendous aid to the story art form.  I have finished some stories and am always working on others.